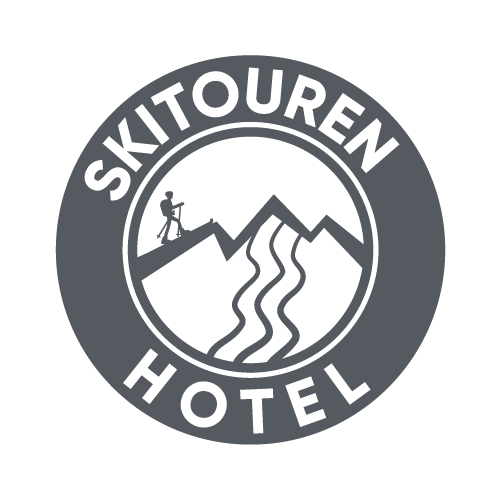 We belong to "Skitouren Hotels"
Ski touring hotels are the ideal accommodation for guests who enjoy the mountain world on skis away from the hustle and bustle of the slopes.
Quiet ascents, unforgettable summit moments and swooping descents. Those who love ski tours will definitely get their money's worth in Graubünden. And in the Skitouren Hotel, the all-round facilities are also tailored to ski touring enthusiasts. 
Your winter holiday in Pontresina
An enchanting and fantastic mountain world awaits you, no matter the weather. The Engadine is sure to enchant any visitor time and time again! Whether you are an active family, a couple looking for some romantic time together or simply travelling solo, the Engadine is a real treasure chest of possibilities and discoveries.
Our motto: arrive, switch off, relax and unwind. And this philosophy is shared by our whole team here at Hotel Rosatsch. We want every guest to feel welcome, and to give them the chance to explore this unique mountain landscape.
Families can enjoy a fabulous winter wonderland here in Pontresina. With skiing and snowboarding at the children's ski world, the Bellavita adventure pool, horse-drawn carriage rides in the snow to the Roseg valley, night skiing on Piz Languard, tobogganing, ice skating, curling, ice hockey, snowshoe hikes, winter hikes, cross-country skiing and much, much more!
Winter in the Engadine offers families the chance to enjoy a wide range of activities with fantastic snow conditions. There's nothing like enjoying a hot mug of cocoa or a nice cup of tea in the fireplace bar after an active day's holiday. Then your happy but sleepy-eyed children can drift off as you read them one final story. And you should also take a look at what else the snowy-white winter landscape has to offer beyond the children's ski world Pontresina.
Winter in the Engadine offers a wide range of activities and fantastic snow conditions for everyone:
Skiing and cross-country skiing
Bellavita adventure pool Pontresina
Toboggan run and toboggan race tracks
Horse-drawn carriage rides
Ice skating
Snowshoe hikes 
Engadine Skimarathon
Cricket on Ice
Children's ski world with skiing and snowboarding
Ovavera Pool Spa & Sports Centre St. Moritz
Bobsleigh rides and cresta run (skeleton)
Night skiing
Curling & ice hockey
Winter hikes
Cross country skiing courses
… and much more. 
All winter activities can be found under the following links:
The Hotel Skipass is available at CHF 45 per day per person. Only bookable for the equivalent number of overnight stays. As an alternative there is also the Snow Deal, which features daily updated prices.
Our hotel offers you a ski room, a wax table, a shoe dryer and a free washing service (guest washing machine), all along with a healthy and sports-friendly breakfast and dinner.
A fantastic children's ski world in the heart of Pontresina
Ideally located in the heart of Pontresina, and only three minutes walk from the Hotel Rosatsch, is the child-friendly Piz Languard ski world. The Pontresina Ski School has a practice slope that's perfect for beginners, and offers individual and group lessons from the age of three upwards.
Located on a sunny slope and equipped with modern infrastructure, the  "Snowli Kids Village" offers a dedicated beginners' area for children new to skiing.
3 conveyor belts
1 T-bar lift for advanced skiers with 2 runs
2 pony lifts
A Snowli kids' restaurant on the ski slope and a beautiful terrace with breathtaking views that parents can also enjoy.
Valuable educational aids help children learn in a playful way. The Swiss Ski School Pontresina has the professionalism and competence to guarantee your child enjoys a fun, enthusiastic and ultimately successful learning experience in the snow.
Look out for the Swiss Ski School Pontresina's online special packages, which offer ski lessons along with ski rental, including helmet and ski boots. You can find further information about individual and group lessons along with special online offers from the Swiss Ski and Snowboard School Pontresina by clicking on the following link.
Cross-country ski runs in Pontresina
There are over 200 km of cross-country skiing trails in Pontresina, running through the entire Upper Engadine and passing lakes and valleys along the way. The Cuntschett night trails are illuminated between 5:00 pm and 9:00 pm. The Engadin Skimarathon route is particularly beautiful and gives you the chance to experience full-on cross-country ski training.